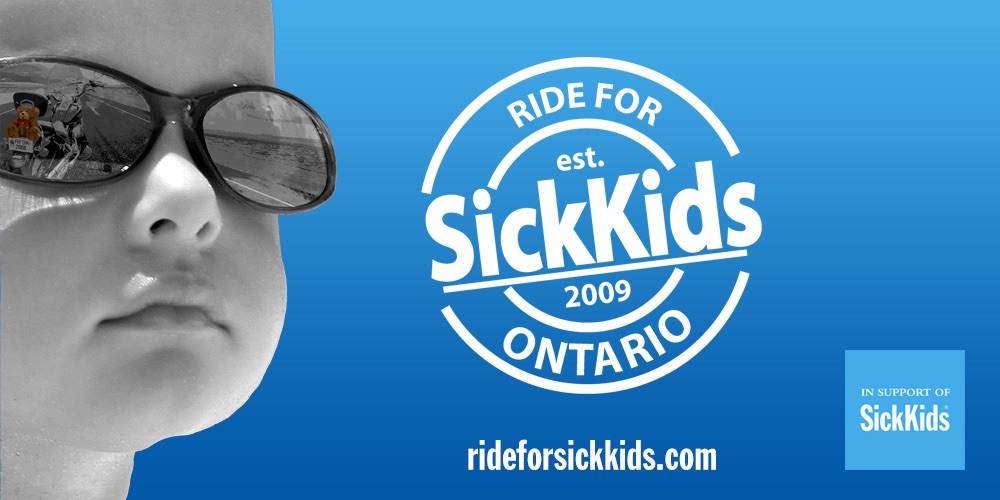 This Ride's For Life!
PORT PERRY, ON (For Immediate Release) – More than 500 motorcycles thundering into Port Perry on Sunday August 13 are bringing a deadly serious message: Saving lives matters.
Consequently, the Ninth Annual Ride for Sick Kids (www.rideforsickkids.com), Sunday Aug. 13, serves a dual purpose. We're out to buy an automated drug dispenser for the world renowned Hospital for Sick Children and at the same time raise awareness around rider safety.
2017 has proven to be a deadly year for motorcyclists, with a jump in both accidents and fatalities. So we're also hoping the sight and sound of 500 motorcycles making their way from Oshawa to Port Perry will remind motorists that sharing the road and respecting riders' spaces is critical.
Most importantly, however, we're out to help The Hospital for Sick Children save lives. Last year, our eighth year, we raised more than $55,000, bringing our grand total to $285,663.63.
The 9th annual Ride for Sick Kids is set and registration is now open and we ride for kids like Antonio Loberto , who is just eight years old and fighting leukemia.
Antonio can't ride with us but we can ride for him.
This year we're aiming to buy a Small Automated Drug Dispensing Cabinet. Making a child comfortable as they face their illness is a real challenge and pain control is a critical element of care. These cabinets ensure pain medication is always close by and available for quick relief.
Antonio's story is typical. He was an energetic child, strong and curious from birth but everything changed when at Christmas 2013 when he complained of being ill and that his "bones were aching."
In January staff at the Hospital for Sick Children had to deliver the bad news: Antonio had Acute Lymphocytic Leukemia.
"By 4:30 p.m. that day we were on the 8th Floor of Sick Kids, trying to make sense of the fact that our son has cancer," recalls his mom Rosemary Garisto. "So many thoughts rush into your mind. How is this possible? How is he going to get through this? How are we going to get through this? And then your four-year-old son, laying in a hospital bed, pale and tired says: 'Don't cry mommy, I'm not going to die.'"
At that moment, she says, everything changes: "You put on the biggest smile and find courage and strength you didn't know you have and you never look back. If your precious baby can remain positive at a time like this, than you have to as well."
Since then the journey has been bumpy, smoothed only by the incredible care at Sick Kids, she says.
"There have been 1,185 days of chemotherapy (or 19 rounds!), 45 nights in the hospital, 26 lumbar punctures, 2 MRI's and 1 port," she says. "There is no other hospital and staff that I would want to look after my son but the nurses and doctors at Sick Kids."
Now, incredibly, they're looking ahead to the next 1,821 days which will determine if he is declared "Cancer Free."
"There will be days where our emotions are tested," she says. "But we look forward to a life of creating fun filled childhood memories without medication or chemotherapy."
It's stories like Antonio's which bring some 500 riders together at Mackie Harley Davidson in Oshawa every year to set out for Port Perry where there's a BBQ and live entertainment at the waterfront park.
There are usually more than 1,000 people there. More than 500 are riders and many more are attracted by the bikes.
This year, there's the added attraction of Brits on the Lake, a Classic Motoring Revival show and shine of classic British sports cars. It's going to be a busy afternoon for Brits n' Bike and the crowds should be spectacular.
One lucky raffle ticket holder will win a brand new 2017 Harley-Davidson® Street® 500.
Ultimately the ride is about fun and people; the cause is about seriously ill children and supporting the work at the Hospital for Sick Children and saving lives.
What: The 9th annual RIDE FOR SICK KIDS.
When: Sunday, August 13th, 2017 11 a.m.
Join or Donate: http://www.rideforsickkids.com/
Where: Registration starting at 8 a.m. at Mackie Harley Davidson, Oshawa 880 Champlain Ave, Oshawa leaving for Port Perry at 11 a.m. under police escort.
Destination: Palmer Park in Port Perry at 12.30 p.m. for BBQ lunch, live music and prizes include a raffle for a diverse range of prizes including a Harley-Davidson® Street® 500.
Ride Day: Fantastic video and photo and audio opportunity with 500 bikes thundering along to Port Perry.
Pre-Ride: Help us tell the story of the great work being done at Sick Kids, why it's important for everyone to give back to their community in any way they can, that saving lives matter and that we all must share the road responsibly.
Contact: Nella Figliano – Chairperson 416-895-5215, info@rideforsickkids.com, or to arrange pre-ride promotion media interviews, photo ops with Antonio and participating riders contact Ian Harvey 416-699-6921/416-930-2149 mobile ian@rideforsickkids.com.